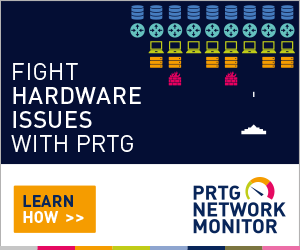 Keep an eye on all hardware in your network. PRTG Network Monitor alerts you before hardware faults occur.
3 reasons to choose PRTG as your hardware monitor
PRTG LETS YOU ACT BEFORE PROBLEMS OCCUR: PRTG alerts you if the system is at risk: before the memory overloads, before the printer runs out of ink, and before the router fails.
WITH PRTG, EVERYONE IN THE OFFICE CAN REST ASSURED: IT professionals are forced to resolve many issues within strict time constraints and an IT environment which is becoming more and more complex. PRTG automates routine tasks, ensuring you meet your SLAs as efficiently as possible.
MORE STABLE WORK PROCESSES WITH HARDWARE MONITORING: Hardware always seems to stop working when you need it the most. At critical moments, such as just before a deadline!
Try PRTG today and see how PRTG can monitor all of your hardware.